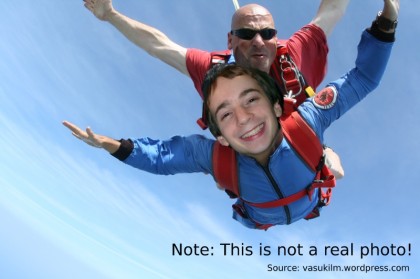 My sister and I are going to be jumping out of a plane at circa 13,000 ft (weather permitting) to raise money for charity on 7th April.
I'm raising money for Alzheimer's Society, and she's collecting sponsorships for Cancer Resarch UK.
If you would like to sponsor me, I've set up a Just Giving page at http://www.justgiving.com/simonsbigjump
The image above is just for illustration. Since this will be my first jump, I have no photography of me falling out of the sky, so I used the GIMP to make something.