Here's the video of my sky dive – enjoy!
[youtube:http://www.youtube.com/watch?v=2pE8k2HcS44]
After 4 attempts, the weather has finally allowed my sister and I to complete our first ever sky dives in aid of our chosen charities.
We arrived at the centre in the east of England at 7.15 am and got in line to make sure we'd be near the front of the queue when it came to jump orders. Less than 2 hours later we were called into the hangar to suit-up and slide into our harnesses. After a plane ride of maybe 10 mins or so, and allowing one guy to jump out at 5,000ft, we were at 12,000ft and I was first in line to accelerate to terminal velocity in the direction of our host planet.
When the door is slid open, the first thing that hit me was the view. The second was the cold air. The third was the realisation that I was about to go out that door and entrust myself to the friendly Chris and his complex arrangement of fabric and string.
The pictures below pretty much explain the rest!
Finally, a massive thanks to all who sponsored my sister and I. Your donations are greatly appreciated.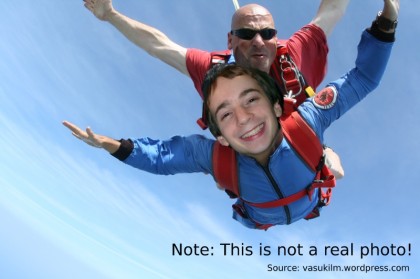 My sister and I are going to be jumping out of a plane at circa 13,000 ft (weather permitting) to raise money for charity on 7th April.
I'm raising money for Alzheimer's Society, and she's collecting sponsorships for Cancer Resarch UK.
If you would like to sponsor me, I've set up a Just Giving page at http://www.justgiving.com/simonsbigjump
The image above is just for illustration. Since this will be my first jump, I have no photography of me falling out of the sky, so I used the GIMP to make something.