EDIT: The configuration below has now been superceded by LANCache.
---
About twice a year I help set up and run a local LAN Party at a Rugby club on the outskirts of town. Compared to more widely known events, ours is tiny in comparison – typically 20-30 people – all squeezed into the club house.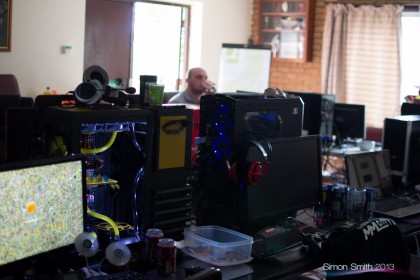 One thing that a LAN party needs to be a success, particularly in the last few years, is a solid connection to the internet so that multi-player server lists can be retrieved, DRM systems can unlock, updates can download, and people can sign into Steam. Guests might also wish to have more general net access for the web, email, IM etc. One of the issues with smaller venues, however, is that they generally have no need for a fast, reliable internet service – the cheapest consumer-grade connection will normally suffice. In some cases, the geography of the less expensive locations – required for small parties – tends to impose technical limits on what services are available anyway. In our case, the clubhouse has an ADSL connection which syncs at about 2Mbit on a good (dry) day.