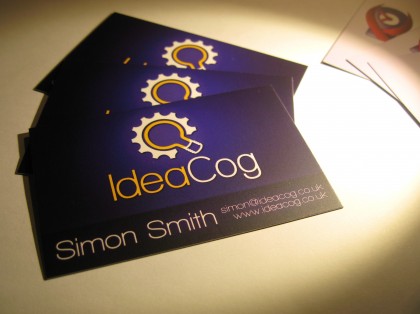 I decided the weekend before last that I can't continue trying to promote Foresight without having some business cards to give to potential customers. Given that I'm trying to get the software known on a budget of effectively zero, word-of-mouth and hand-to-hand promotion is forming a key part of my initial strategy.
Designing stuff is always fun, but designing a business card is also difficult. It's something that will give a lasting impression within seconds of it being presented, must contain lots of information in an attractive manner, and most importantly of all it must be correct! Unlike digital media that I work with on a daily basis, in print the ink has a tendancy to be permenantly etched into the paper stock.
I decided to keep my cards quite simple, but also made them serve a dual purpose. Not only do my cards have the name of the business and my contact details, but they also remind the recipient of what my flagship product is and what it's about.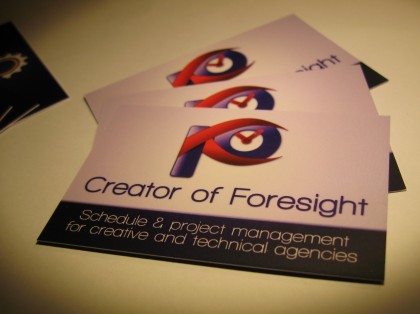 I also decided to only include online contact details – email address and website URL. These are certainly sufficient for most people's needs. I didn't include a phone number because for one I don't currently have a dedicated business line (I'm working on that at the moment), but also I have a day job that I plan on keeping for the forseeable future and so wouldn't be around to answer it anyway.
I ordered the cards from moo.com, having found them through Top CashBack (see my earlier post for details). They have a brilliantly designed site, with a well-built submission process. They also have order tracking so I was always able to check on my order.
The cards arrived today, 3 days ahead of the estimated delivery date. I'm really pleased with them, and the card they are printed on gives a real feeling of quality – all important when trying to promote one's wares. They aren't cheap though, at £10 + P&P for 50 cards. Those cards will very quickly disappear with my initial upcoming 'friends & family' marketing/awareness campaign.