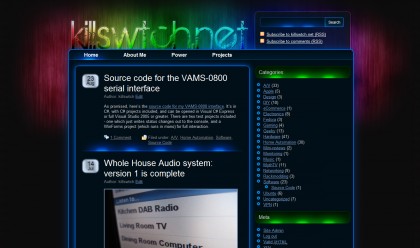 It's been a long time coming, but I have finally produced my own design for this site.
KillerLight is based on the theme of 'illumination'. I wanted it to give the impression that things have been illuminated by artificial means, and I looked to a few existing WordPress themes for an idea of what needed doing.
It's taken about 3 days to put together, just in time for the new year. It was created using a mix of Photoshop, Eclipse (with PHPEclipse) and Notepad++ (for CSS editing). This is my first WordPress theme, and the first serious bit of web design I've done in a while.
I also did a little bit in Flash, attempting to have the header rainbow stuff animated and fading between different colours, but there were too many issues so I've put that idea on hold for the moment. You can view my attempt if you like by sticking the querystring '?animate=true' on the end of the URL. I know that it doesn't work in FF on Ubuntu, probably because the Flash player implementation for Linux is a little different.
I don't have IE 6 at home, so I've not been able to test in that. However I assume it will be quite broken, so for anyone unfortunate enough to still be using < IE 7, they will be warned that things won't look nice and be advised to upgrade or get a different browser. Seems to work fine in FF 3 and Safari (Windows) though.
This theme is not by any means perfect, and there's plenty more work to do on some of the bits that aren't commonly accessed. With that in mind, if you spot any issues, please report them in the comments of this post.