First Attempt at Interior Design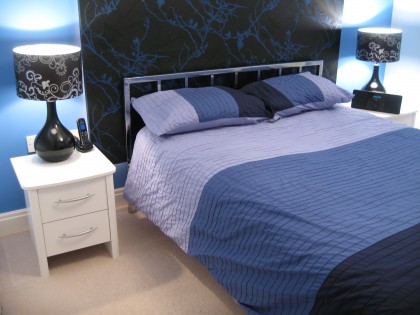 Back in April I decided to take a well-earned break from work. During that week, I got a lot accomplished. Mostly I worked on my software project (details to be revealed fairly soon, probably) but towards the end I started my first decorating project in my flat.

I wanted to do something a little different, and make the room look a little larger. I think when I was ill one time, with only daytime TV for entertainment, I caught one of those 'sell your house for more' type programs. One thing they did when making the property into a showhome was add a touch of wallpaper, but not directly to the wall. Instead, a large sheet of thin MDF was covered in a short space of time, and the panel was then propped against the wall. Such a simple idea, but I'd never thought of it before.
So, I've taken that idea and built on it a bit. As you can see from the gallery below, I've done something on a bit of a larger scale, with the idea of it being a bit more permenant and interesting. I purchased a single roll of fancy wallpaper from wallpapers direct, built a wooden support frame, primed it, lined it, stripped the aforementioned lining from it (lining caused more problems than it solved), and finally covered it with some help from my wallpapering-veteran father.
The larger frame wasn't just to make it more sturdy and more of a feature; it was key to creating a lighting feature. After much deliberation over the best and most cost-effective way to illuminate, I chose a rope light as the source of the backlighting effect. Lighting efficiency was optimised through a late decision to line it with plain ol' kitchen foil.
As for the rest of the decoration (and the choice of wallpaper) I took cues from my existing bed set. The pallete ended up consisting of a range of blues, white, chrome and black. The key to putting them all together is varying levels of contrast. The eye is drawn to areas of high contrast, which not only allows you to highlight features but also can be used to provide a greater feeling of space by drawing the eye around the room in a particular manner. I'm just making this stuff up BTW, but it's what I've based my decorating on and it appears to have worked pretty well 🙂
Being on a bit of a budget, the accessories had to come cheap. It's possible to get away with this by sticking to a small pallette and taking advantage of contrast to make things look better than they really are. Anyway, enough writing. I was going to write a much more structured essay, but I'll let the photos do the talking.