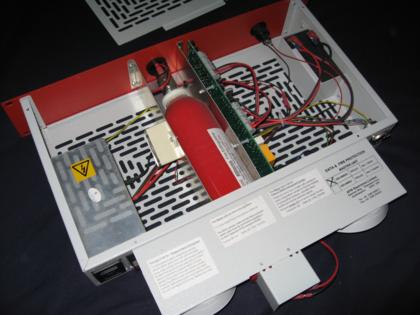 For quite a while now I've had 2U at the top of the rack consumed by an APW Fire Protection Unit. This clever bit of kit, found by chance on eBay for £15, will extinguish a fire using FM200 gas (with some nitrogen thrown in) when detected by either of it's two optical smoke detectors.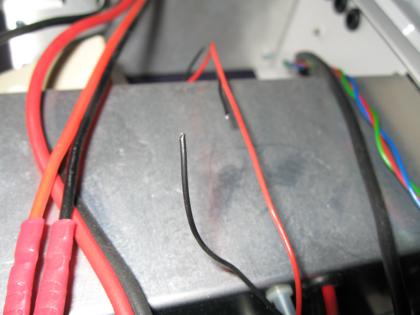 Until today it hasn't been plugged in for more than half a second because the alarm appears to be broken inside (or I need to do some sort of configuration which isn't possible without a manual) and so it was far too noisy to use. The alarm is deafening and certainly does it's job, but is obviously a little eager to make itself known. Just in case this was an indication that the gas might be released I disconnected the fillament in glass stopper on the end of the canister (later reconnected when I was happy it's only the alarm that is broken).
To solve the alarm problem I have been forced to snip one of the wires to the sounder so that I can use it. This shouldn't affect the operation of the unit, though it wont be able to give any audible indication of a fire. There is a visual indicator on the front to back it up. To replace to the audible function I will install a standard household smoke alarm.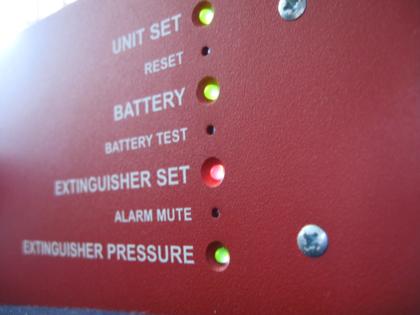 I'm just waiting for a backup to complete before I hand over power management to it. In the event of a fire, it will instantly cut power to anything that it feeds, which in this case will be most things that are connected to the UPS. Unfortunately the UPS shutdown functionality isn't compatible with my UPS since it uses basic status signalling, so if a fire does break out it had best not be in the UPS.