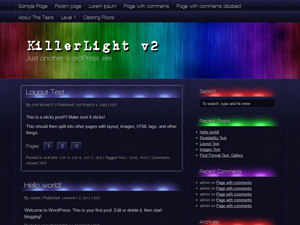 Yep, after far too much procrastination, the successor to my first WordPress theme is here.
It has taken a week of evenings to convert it from a layered Photoshop design into HTML and CSS. The previous version of KillerLight was based on the code of the K2 theme, and ended up being heavily customised. This time around, version 2 is based upon Thematic and very little in the way of HTML changes has been made – just a few more wrapping divs here and there. This should lead to a very robust theme.
Gone is the animated header background, at least in this version. It caused far too many complaints and confusion, although I still think the idea is sound provided the animation is subtle.
I'm going to submit the theme to WordPress.org's themes directory soon, and once approved (fingers crossed) it should be easy for people to find and install into their WordPress v3 site.
More information can be found on the Idea Cog website, where information about the theme is being hosted.
EDIT: Until the theme is available on wordpress.org, you can find a download link on this post.