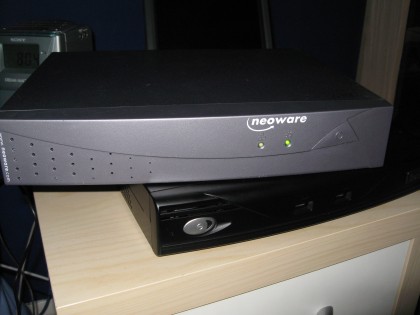 The audio system that I'm building requires 2 low-power computers: 1 for the touchscreen controller (not using an iPod Touch for the moment) and 1 to act as a webserver and serial-console server.
Once again eBay has come to the rescue, and by searching for 'geode' – a low-power processor for Thin Clients & Small Form Factor (SFF) PCs – I found the 2 machines that I needed. These are the specs:
magnesium (the black one)

800 MHz Geode
256 MB RAM
6 GB CF drive
Onboard graphics, audio, serial, parallel, USB & 10/100 ethernet
£70 + P&P
potassium (the grey one)

300 MHz Geode
256 MB RAM
6 GB 2.5″ IDE drive
Onboard graphics, audio, serial x2, parallel, USB & 10/100 ethernet
£35 + P&P
Magnesium is used as the client machine, and potassium runs a custom-made webserver and the control software for the VAMS-0808 Matrix Switcher.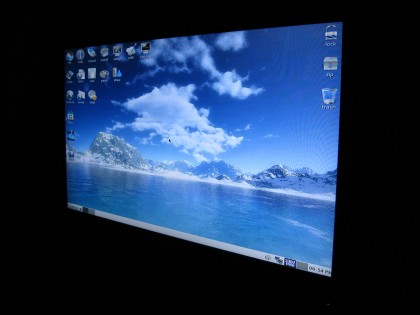 Both came pre-installed with Puppy Linux, a lightweight distribution designed for low-power machines such as these. It runs surprisingly quickly, but to make it easier for me to maintain I decided to install Ubuntu.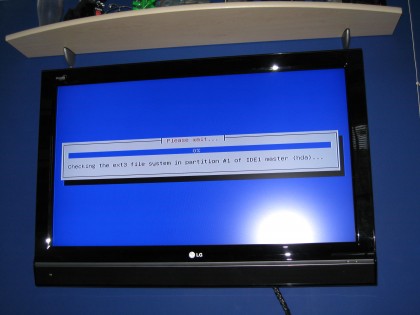 On such slow computers it took many hours to get Ubuntu installed on magnesium alone. I initially installed to the CF drive that came with the machine. However I found it to be quite slow, so I followed a guide for running Ubuntu via network boot and removed the CF disk. I did the same for potassium. Both booted off of the fileserver, boron.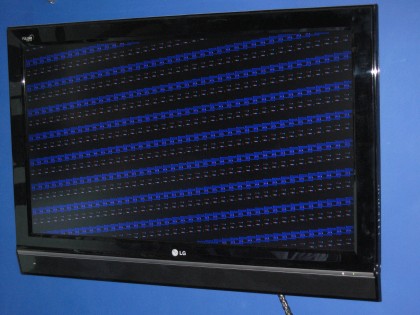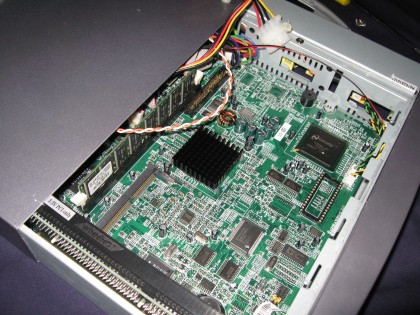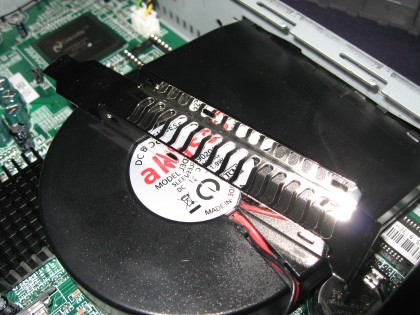 Unfortunately during installation, I found that the slower of the machines has a tendancy to overheat causing the machine to hang. To get Ubuntu installed I had to remove the case. This has now been rectified by installing a blower to get at least some air circulating. This is the only fan in either of the machines. Magnesium gets quite hot but has never crashed because of it. It also sits in a cooler environment, and is much better engineered.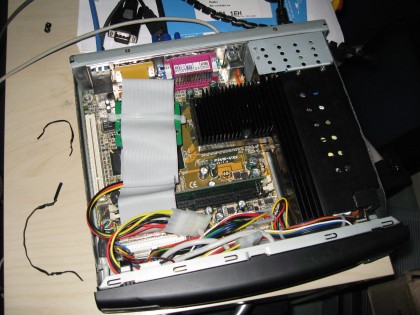 Sadly I've been forced to install Windows XP on magnesium purely because I couldn't get the touchscreen to work under linux despite spending more than a day trying to. While it was detected, and it detected touches, the calibration was completely off and there was no way to configure it. Rather than waste any more time I decided to switch to Windows and everything has worked beautifuly since then. To accomplish this I've had to reinstall the CF disk since as far as I know XP Pro can't do diskless booting.
Shots of these computers in use and more information on their roles to come soon.